The museum's own products
The museum's own merchandise are also available in the shop. You will find our books and publications from which you can learn more about our history, the founders of the museum and earlier exhibitions. These are availabe in several languages. We also have a wide range of postcards and posters with selected motives from the collection. In addition to this, we sell buttons with our logo, museumbags made out of recycled materials, and an art portfolio.
Postcards and posters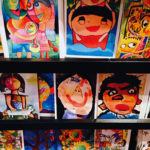 Visited our exhibitions and found an image you really loved? Several of the images from the collection have been printed as postcards and posters available through our museum shop. Here you'll find cards suitable for holidays and birthdays, or simply pick out your favorite, frame it and hang it on the wall for further enjoyment. Different themes, shapes and sizes.
Museum tote bag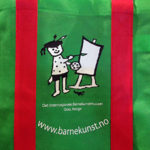 Made from recycled materials, these bags not only look good, they are also environmentally friendly.
They come in three different designs (blue, green and multi), and two different sizes.
Art portfolio: «Disaster seen through children's eyes»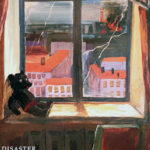 In 1990 The International Museum of Childrens Art invited children and youth to send in artworks exploring the theme disaster. The response was overwhelming. Thousands of children and youth from more than 90 countries sent in their contributions.
In the art portfolio you will find reproductions of 8 of the contributions to the project, as well as texts in several languages.
Wide open eyes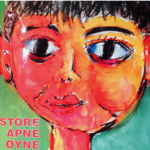 Wide open eyes is the museum's main publication. In this book you will find text and art contributions from children from all over the world, as well as texts from important supporters and the director herself. It also provides an insight into the museum's history, activities and ideology. You will also find a chronology of previous exhibitions.