December and Christmas.
Available in our museum shop are a selection of Christmas gifts a little out of the ordinary, with the museum's own products and our many souvenirs. We have a range of exciting art books for both kids and adults, instruments for children, educational toys and much more.
Here you can also find very special Christmas cards, with unique designs created by children from around the world. If you are looking for small calender gifts, we have many exciting alternatives – from keychains, to jumping jacks, drawing materials, small goods from HAY, music instruments from Djeco toys and more.
We also sell Christmas music from Putumayo Kids World Music, with Christmas songs for the whole family. You'll hear familiar and beloved songs performed with a twist, as well as new songs you might not have heard before.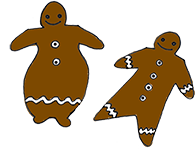 Welcome to Christmas shopping at the museum!