#Ruter-event: Hop on, hop off | 18.06 + 19.06
Want to experience a different kind of Oslo? Ruter's event «Hop on, hop off» on Saturday 18.06 and Sunday 19.06 enables you to do just that – with its special bus line, taking you from one hidden gem to another. The International Museum of Children's Art is one of the 9 stops on the tour!
There is a free admission to the museum this particular weekend for anyone with Ruter's Hop on, hop off-ticket. The Hop on, hop off-tickets are handed out at each of the nine bus stops on the tour, all you have to do is make sure you have a valid travel ticket from Ruter. The Hop on, hop of-ticket is valid for one day.
At the museum you can experience art made by children from all over the world and participate in several activities especially for this weekend. On Saturday you can join in on guided tours of the exhibitions, and on both days there'll be drumming workshops, a drawing station and face painting. On Sunday there's also gonna be a balloon clown. All of this is included in the Hop on, hop off-ticket. In addition to all this there's a family workshop both Saturday and Sunday, where you can make small sculptures out of clay. Workshop tickets are 20 NOK, and it's open all day during the museum's opening hours.
Guided tour schedule Saturday June 18th
Twice every hour
11:00 to 11:20
11:30 to 11:50
12:00 to 12:20
12:30 to 12:50
1:00 p.m. to 1:20 p.m.
1:30 p.m. to 1:50 p.m.
2:00 p.m. to 2:20 p.m.
2:30 p.m. to 2:50 p.m.
3:00 p.m. to 3:20 p.m.
3:30 p.m. to 3:50 p.m.
African drum activity Saturday June 18th and Sunday June 19th
12:00 to 12:30 p.m.
1:00 p.m. to 1:30 p.m.
2:00 p.m to 2:30 p.m
3:00 p.m. to 3:30 p.m
For more information about this event and the other attractions, please visit Ruter's facebook-event. (No)
And these are all the stops of the tour!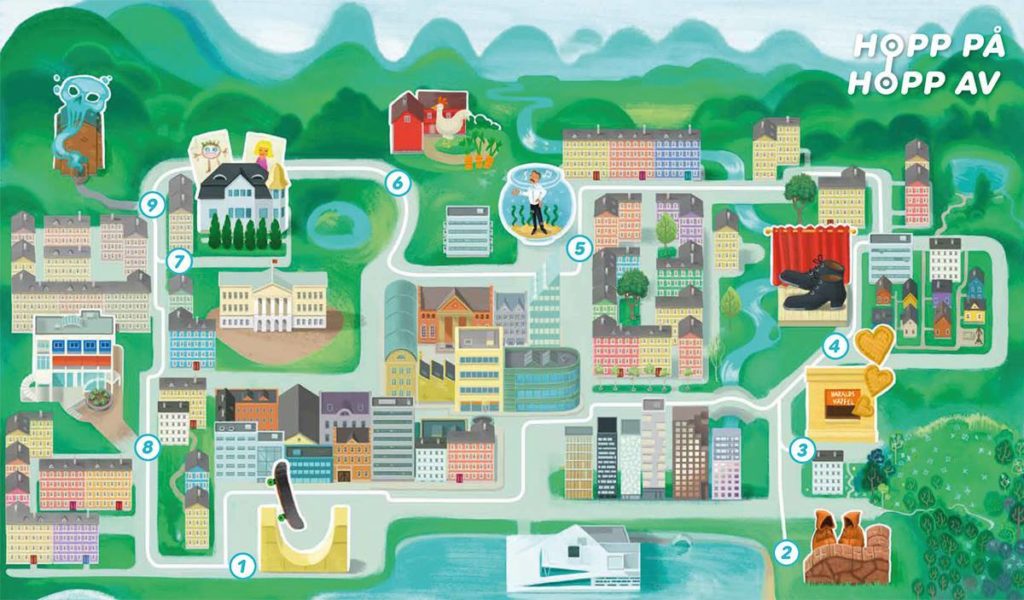 1. Watch a cool skateboarding show and have a crash course in skateboarding if you like. Stop: Bryggetorget.
2. Travel back in time and listen to the history of the mendicants monks.  Stop: St. Halvards plass
3. Taste the world's best waffles – served from a bedroom window. Stop: Harald Hårdrådes plass
4. Practice your dancing feet with a crash course in stepping.
Stop: Rosenhoff
5. Experience an underwater opera at the Underwater Pub.
Stop: St.Hanshaugen
6. Test your tastebuds in the herb garden at Geitmyra.
Stop: Fayes gate
7. See children's art from all over the world
Stop: Frøensalléen
8. Familiarise yourself with a Norwegian funkis gem.
Stop: Vinderen
9. Enter into the darkness in Vigeland's tomb (Saturday only).
Stop: Grimelundsveien
Illustrations: Karl Bryhn