WINNER CONTRIBUTIONS | DRAWING COMPETITION TOURIST IN YOUR OWN CITY 2016
«OSLO IN THE FUTURE»
As part of the annual event «Tourist in your own city», organised by the City of Oslo and VisitOSLO, every grade in all the schools in Oslo were invited to a drawing competition. The theme of the drawing contest was «Oslo in the future – what do you imagine our city will look like 50-100 years from now?»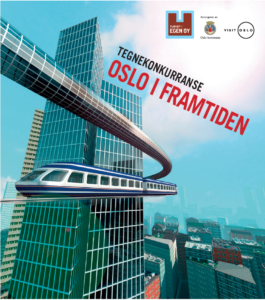 Oslo is one of Europe's fastest growing capitals. Each year lots of people move here to live and work. In recent years we have seen new architecture and urban development projects, such as the Holmenkollen National Ski Arena, Tjuvholmen, Vulkan, Bjørvika, Barcode and the Opera. The city is constantly growing – new neighbourhoods are emerging, while old ones are developed and transformed. At the same time, half of the Oslo municipality is covered by parks and forests, making Oslo a green city during the summer and a ski paradise during the winter. With about 40 islands and great beaches in and right outside of the city central, Oslo is also a seaside resort.
Looking around the city, you'll see there's a lot being built and modified. It seems like the city is preparing for the future. But what will the city look like in a few years? What will hiking in the woods or fishing in the fjords, skiing, go cycling or other fun stuff be like 50-100 years from now? How will houses, apartments, schools, parks and the Oslofjord look by then? Will we still travel by public transportation such as trams, buses and metros?
The students were invited to submit one entry per grade. They chose their motif and the size themselves.
This year's winners were announced at the Oslo City Hall on April 17th, and the first prize winners got a day at Tusenfryd Amusement park for the entire class.

Header image: Crop from the winner contribution from Nyskolen in Oslo, Red group, grade 4.-6.