August | Story telling – «The Goat and the Wolf»
Wednesdays
June: 01.06, 08.06 and 15.06 – at 10.30, 11.30 og 12.30
August: 03.08, 10.08 and 17.08 – at 11.30, 12.30 og 13.30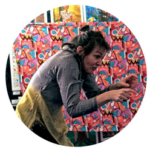 Actress Kirsten Marcella Høeg performs «The Goat and The Wolf» – a story based on an Afghan folk tale.
There are many known versions of the tale  «The Wolf and the Seven Young Goats», but that there is also an Afghan story about the Mother Goat and her goat kids is perhaps lesser known. In this version, the story takes place high in the mountains in Afghanistan, and we get an insight into the perilous life of a small goat family.
The main enemy is the sly and vicious wolf Baiyo, but we also face a tricky fox and a peculiar teeth grinder! For a while there it looks rather bleak for the young goats, who gets eaten by the wolf, but yes, you gessed it – everything is alright in the end!
Suitable for ages 4 and up.
Performed in Norwegian.
Three performances per day. Duration approximately 30 min.
For group bookings, please contact the museum. Performances may be canceled due to too few participants