March: Guided tours and storytelling
There are several available times for tours and storytelling theater in March,
GUIDED TOURS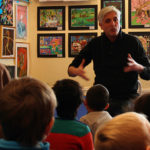 We convey knowledge of children's art with the intention of strengthening learning through dedication and enthusiasm. We offer guided tours suitable for all age groups.
Kindergarten:
With The UN Convention on the Rights of the Child and the Framework Plan for the Content and Tasks of Kindergartens as a foundation, we offer guided tours for the different age groups. The subject areas of art, culture and creativity is particularly relevant. The children themselves are encouraged to participate through conversation, music and play.
Primary school:
The guided tour is relevant to the curriculum in subjects such as arts, science, social studies and geography, and can be related to several competence aims within the Knowledge Promotion (Kunnskapsløftet). The guided tours are also relevant in regards to The UN Convention on the Rights of the Child. The tours allow for conversation and reflection and a music activity is always included in the program.
Tours are offered Tuesday and Thursday, at 9:30 to 11:00, 11:00 to 12:30 and 12:30 to 2:00 p.m.
---
STORYTELLING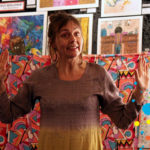 Storytelling with actor Kirsten Marcella Høeg is a recurring and popular event in the museum's mediation program. Kirsten's performances are based on well-known and lesser-known folk tales from around the world, and she performs them with relish and enthusiasm. The kids get to contribute to the story along the way, they get tasks, lines or even assigned roles.
In February and March, she performs "To buy a song" – a story based on an Indian fairy tale. You get to meet many strange characters; talking animals, whistling burglars and a rich lady who believes she can buy herself a pretty singing voice! "To buy a song" is a peculiar and funny story.
Performances March:
Wednesdays –  2.3, 9.3 and 16.3 at 10.30, 11.30 and 12.30
Reservations are required.