NOV: Storytelling – «The kids in the tree top»
Wednesday: 4.11, 11.11, 18.11 and 25.11
Actress Kirsten Høeg performs "The kids in the tree top" – a story based on a fairytale from Tanzania. To protect his children against wild animals and creepy witches, a dad has to build a house in the top of a Baobab-tree, high above the spooky forest they live in. But will the kids be safe in the tree top?
Suitable for ages 4 and up. Performed in Norwegian.
Three performances per day: at 10.30, 12.00 and 13.30. Duration approximately 30 min.
For group bookings, please contact the museum.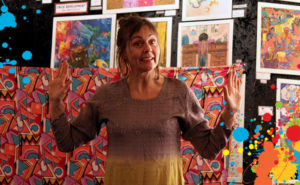 Header image: «The mango tree is our friend», (7), Sri Lanka