Rhythm and music is a big part of the experience at the museum, and this is reflected in the store. Here you can buy drums, glockenspiels, tambourins and maracas! We also have several CDs from Putumayo, featuring music from all over the world – suitable for both the energetic and the calmer moments.
Putuamayo Music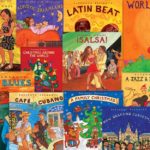 Putumayo is a record label known for its joyful compilations of great international music that support the company's motto: "Guaranteed to make you feel good!" In addition to the world music series, the label also has a division called «Putumayo Kids» – created to introduce children to other cultures through fun, upbeat world music.
Instruments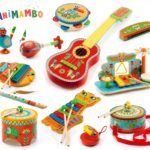 We carry different instruments from Djeco's instrument series «Animambo» – a collaboration with Putumayo Kids. The instruments are made of solid wood, decorated with bright colors and fun shapes, and they feel easy in your hands.