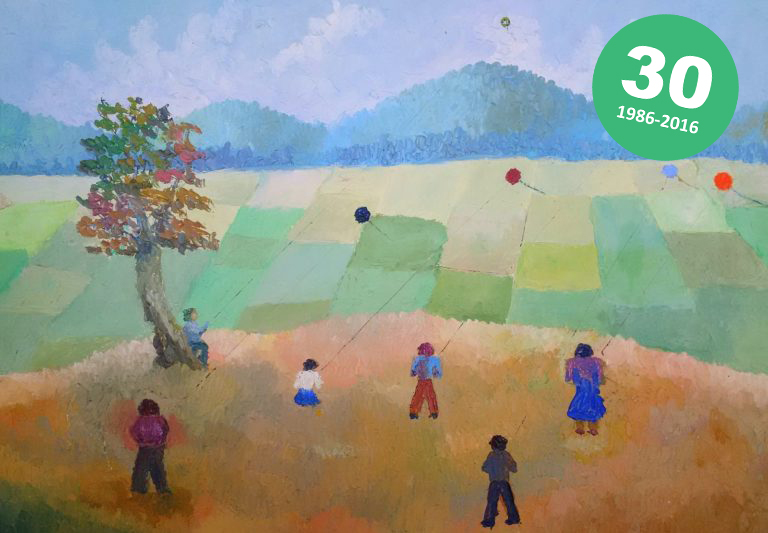 The International Museum of Children's Art 1986-2016
The International Children's Art Museum is an institution for social service, where children and young people have their own venue to present the most important issues of their thoughts and opinions. On the occasion of the Museum's 30th anniversary on 1 October, the Museum presents highlights from the it's permanent collection, including a selection of 9 different global art projects.
NORWAY: NORWEGIAN ENTRIES FROM THE MUSEUM'S COLLECTION In the occasion of Norway celebrating one hundred years, the museum hosted a drawing competition in collaboration with Norway Post office asking children "How do you imagine life in Norway in one hundred years?". 42 000 drawings from Norwegian children were received and the winners got their artworks printed as stamps. In addition a selection of older Norwegian entries from early 1970-1990 are presented, including a series of silk-paintings made by children in Susendal Kindergarten, Hattfjelldal in 1993.
FUTURE IN YOUR HANDS (2004) The purpose of the project was to create an understanding of children's own comprehension of being disabled. The collection of artworks for this global project was initiated by Rehabilitation International Norway & The Atlas Alliance.
ANYA DZHIBLADZE (born 1989) The Paintings on fabric presented here are only few of many artistic works created by Anya from Russia from the age of 2 to 7 years in her mother's art studio of children's batiks.
CHILDREN AND NATURE (1989-) This exhibition shows the inseparable coexistence between man and nature, and the special close and direct connection of the child and its surrounding nature.
SOS-CHILDREN VILLAGES GUATEMALA Visually beautiful images from a SOS-Children's Village in Guatemala shows the relation between culture, lands and people from children's perspectives.
DISASTER (1991-) A selection of artwork highlights on the theme: "Disasters seen through children's eyes", initiated by The World Health Organization, WHO. The images express children's experience of disasters such as Chernobyl, floods, tsunamis, drought, persecution, war and pollution.
FAMILY THROUGH THE EYES OF CHILDREN 1994 The United Nation UN declared 1994 as the International Year of the Family. In this connection, UNESCO collaborated with the International Museum of Children's Art on a global art project, with subsequent exhibitions throughout the world.
THE EXHIBITIONS "DADDY WORLD WIDE" AND "MOTHER AND CHILD" Two exhibitions show a selection of images of the importance of fathers and mothers seen through the eyes of children and young.
ORPHAN VOICES – ALONE WITH AIDS 2001 Many children have been made orphans due to the Aids-epidemic. This NORAD initiated project highlights some of the experiences and destinies from the children's own eyes.
Top image; "Idyllic" by Lucas Z Cardillo (15) Guatemala